Message from the Fire Chief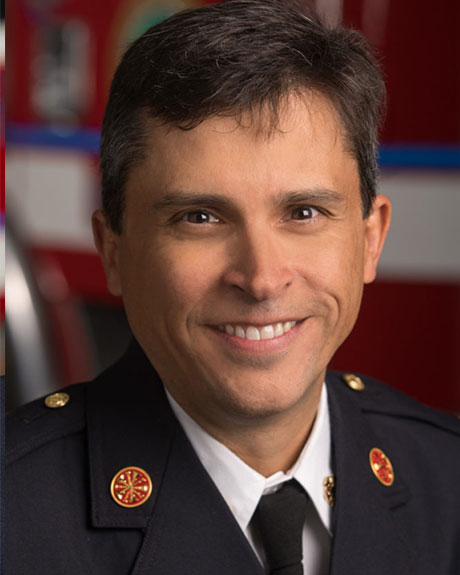 Greetings,
As we continue to experience intermittent smoke in the Lake Tahoe Basin from surrounding fires in the area, we are all feeling the impacts in many ways. It is uncomfortable both physically and mentally and creates a sense of urgency around the topics of emergency preparedness and evacuation.
The most important thing citizens can do is to register for CODE RED emergency alert notifications, stay informed and pack a go-bag. You will recognize the CODE RED call when your caller ID displays the following numbers. Please be sure to add these telephone numbers into your telephone contacts, when applicable (866-419-5000 or Emergency Alert for Emergency Notifications, 855-969-4636 or Community Alert for General Notifications).
In addition to CODE RED notifications, you may also be notified by the Emergency Alert System (EAS), adopted by the Federal Communication Commission, the EAS now replaces the old Emergency Broadcast System. Tune in to KKOH-AM780 on your radio, this is the primary relay station for northern Nevada. Other emergency notification systems include reverse 911, the media, and local emergency officials/door-to-door notifications.
It is up to each of us to be prepared before an emergency occurs. This means making a plan with your family that addresses communications, evacuation routes, pet(s), and special needs. Also, consider taking a home inventory of all items in your household.
Lastly, assemble a kit or 'go bag'. This should include a three-day supply of essential items such as food, water, first aid and supplies, clothing, bedding, sanitation, flashlight, extra set of car and house keys, portable radio and batteries, home inventory checklist.
Being prepared and staying informed are the two best things you can do when it comes to emergency preparedness. Make a plan, assemble a kit, and stay informed. If evacuation becomes necessary, the more you are prepared, the quicker you can respond. Have your kit or go bag ready. If you are advised to evacuate do so immediately, do not wait. Know your evacuation routes and stay informed.
For folks that want to make donations or lend assistance on these fires, please call the incident fire information phone number, and ask for shelter and/or animal evacuation information (also listed in the incident information on InciWeb. You can also contact Red Cross, call 1-800-RED CROSS, or text the word REDCROSS to 90999 to make a $10 donation. For those interested in specifically helping people affected by the Western wildfires, write "Western Wildfires" in the memo line of a check and mail it with a completed donation form to the address on the form or to their local Red Cross chapter.
For Caldor Fire Information: https://linktr.ee/IMT6?utm_source=qr_code and for Caldor Fire Incident email updates: https://lp.constantcontactpages.com/su/bqzL6B6/caldorfire
Some general helpful information links during fire season:
Please take advantage of our Defensible Space Evaluation and Chipping services. Requests can be made online. Please be sure you are taking every precaution to protect your home from wildfire by getting a defensible space evaluation. The fire district can issue free tree removal permits for fire hazard trees, but their removal must accompany complete defensible space treatments. Also take advantage of the Residential Curbside Yard Waste Recycling Collection through Waste Management (WM), May 3 – July 25 and October 4 – October 30, 2021. For more information call WM 775-831-2971.
For homeowners that have a vacant USFS lot next adjacent to your home, you can adopt a lot/ask about lot stewardship by calling 530-543-2759.
Open public burning closed May 6, 2021. The Fire District will no longer issue burn permits for solid fuels (e.g., pine needles, slash piles, wood-burning recreational fires).
Effective May 24, 2021, charcoal and wood fires are prohibited in Incline Village and Crystal Bay, Nevada. This ban is in accordance with our Federal and State land management officials and dispatch partners.
Fuel-fired recreational fire pits (e.g., natural gas or propane) are allowed by permit only. To obtain a permit for a fuel-fired appliance, please contact the Fire District, 775 831-0351, ext. 8107. Fuel-fired appliances shall be operated in accordance with the manufacturer's instructions. This prohibition on open public burning will remain in effect until further notice. Please contact the Fire District's Fire Marshal, Jennifer Donohue with any questions at 775-831-0351, ext. 8127.
Natural gas and propane barbequing are acceptable as long as used within the manufacturer's guidelines and recommendations. For more information visit our Outdoor Burning page.
Short Term Rental Update:
In accordance with Washoe County guidelines, the NLTFPD will conduct a defensible space inspection for all short-term rental applications in Incline Village/Crystal Bay that do not have a current compliant inspection. Occupancies with fire protection systems (e.g., fire sprinklers or monitored fire alarm systems) will receive a fire and life safety inspection to ensure the system(s) have been inspected and serviced annually. Systems shall be serviced by a fire protection contractor that is licensed in the State of Nevada and certified by the State Fire Marshal's Office. The owner or owner's representative shall be on-site for inspections conducted by NLTFPD.
What to expect at the STR Inspection Form. Visit our Short Term Rental page for more information.
Emergency Contact Phone Numbers/Websites:
NV 511 Traveler Information System 511 or www.safetravelusa.com
CAL TRANS 1-800/427-7623 or https://dot.ca.gov/travel
Incline Village General Improvement District (IVGID) Utilities/Public Works 775/832-1203
Washoe County Sheriff's Office (WCSO) 775/832-4110
North Lake Tahoe Fire Protection District (NLTFPD) 775/831-0351
Southwest Gas 1-877/860-6020 (to report suspicious gas leak call 911 FIRST)
NV Energy 775/834-4100 www.nvenergy.com (to report an outage or emergency service issue)
Liberty Utilities 1-800/782-2506 www.californialibertyutilities.com (to report an outage or emergency service issue)
IN AN EMERGENCY, CALL 911
We hope this safety information helps you and your family stay safe and be prepared.
Thank you,
Ryan E. Sommers
Fire Chief