Message from the Fire Chief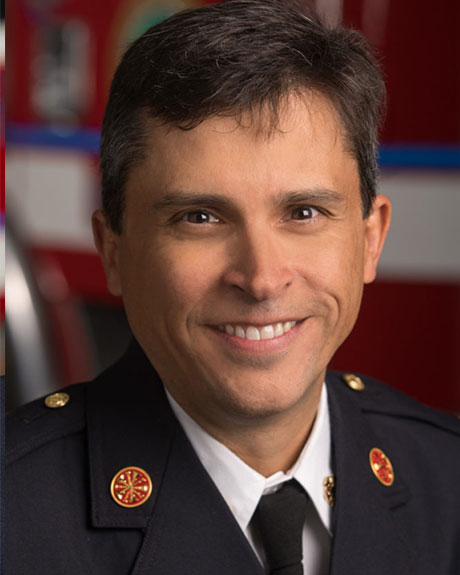 As we bring in the New Year, let's take this opportunity to remember how fortunate we are and to take a moment to pause and hold gratitude for the simple things - our health, our families and friends, and this beautiful place we live and work in called Lake Tahoe.
We look forward to 2021 and hold hope for new beginnings, restored health, and a commitment to the needs of our community.
Winter is officially here with the arrival of our first substantial snowstorm. We hope the following winter weather safety tips help you to be prepared.
Home preparedness tips:
Test all smoke alarms. Do this at least once a month. This way you will know they are working. Install carbon monoxide alarms in your home. Test the alarms.
Plan two ways out of the home in case of an emergency.
Clear driveway and front walk of ice and snow. This will provide easy access to your home.
Make sure your house number can be seen from the street. If you need help, first responders will be able to find you.
Be ready in case the power goes out. Have flashlights on hand. Also, have battery-powered lighting and fresh batteries. Never use candles.
Stay aware of winter weather. Listen to the television or radio for updates. Watch for bulletins online.
Check on your neighbors. Check on others who may need help.
Generators should be used outdoors. Keep them away from windows and doors. Do not run a generator inside your garage, even if the door is open.
Stay away from downed wires. Report any downed wires to authorities.
Be ready if the heat stops working. Use extra layers of clothes and blankets to stay warm. If you use an emergency heat source, follow the manufacturer's guidelines and keep anything that can burn at least 3 feet away.
Turn portable heaters off when you leave the room and turn them off when you go to bed.
Know where your gas meter is located and keep it clear.
Have your furnace inspected and serviced by a qualified professional.
Have your chimney cleaned and inspected by a qualified professional. Not cleaning your chimney is the leading cause of chimney fires from built-up creosote.
Have a covered metal container to dispose of cooled ashes. To obtain a free ash can, residents may fill out an application, available at the Fire District Administration Office, 866 Oriole Way, Incline Village. If the required criteria are met, an ash can will be provided.
Travel Tips:
Store emergency supplies in your car (blanket, change of clothes, flashlight, food, water).
Carry a charged cell phone.
Keep ice scraper/snow brush.
Keep gas tank full.
Check national weather service, the state department of transportation, or local media prior to travel.
Allow extra time and expect delays, road closures, or detours.
If you are caught in a winter storm and/or stranded:
Stay with your vehicle and wait for help.
Display a sign of trouble to let people know you need help.
Occasionally run the engine to keep it warm. Keep the exhaust pipe clear of snow to prevent deadly carbon monoxide fumes from entering the car.
If more than one person is in the car, take turns sleeping.
Layer clothing to trap body heat in order to keep warm.
Emergency Contact Phone Numbers/Websites:
NV 511 Traveler Information System 511 or www.safetravelusa.com
CAL TRANS 1-800/427-7623 or https://dot.ca.gov/travel
Incline Village General Improvement District (IVGID) Utilities/Public Works 775/832-1203
Washoe County Sheriff's Office (WCSO) 775/832-4110
North Lake Tahoe Fire Protection District (NLTFPD) 775/831-0351
Southwest Gas 1-877/860-6020 (to report suspicious gas leak call 911 FIRST)
NV Energy 775/834-4100 www.nvenergy.com (to report an outage or emergency service issue)
Liberty Utilities 1-800/782-2506 www.californialibertyutilities.com (to report an outage or emergency service issue)
IN AN EMERGENCY, CALL 911
Also, please take a moment to register for CODE RED to be notified by your local agencies in the event of emergencies or critical community alerts.
We hope this safety information helps you and your family stay safe and be prepared.
Thank you,
Ryan E. Sommers
Fire Chief